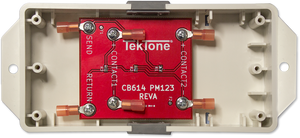 FEATURES
Provides two dry contact inputs for the TekCARE®120 and 160 Systems.
RoHS Compliant.
DESCRIPTION
Each PM123 Auxiliary Input Module provides 2 inputs capable of monitoring normally open dry contacts. This allows the Tek-CARE120 or 160 system to monitor devices such as door contacts, security panel outputs, and more.
PM123 modules may be connected to LI122, LI122BL, and PM120 room controllers.
Two functions, Follower and Acknowledge, are available for each input. The functions are programmed using the Config Tool.
SPECIFICATIONS
Dimensions: 6"H × 2.63"W × 1.45"D  (152 mm × 67 mm × 37 mm)
Environment: 0°C–60°C
Housing: Flame-retardant (UL® 94HB) plastic
Mounting: Screw through flange holes (screws included)
Connections: Insulated ring terminals (terminals included)
WARRANTY
One (1) year manufacturer's warranty plus an exclusive one (1) year BuyTekTone.com extended manufacturer's warranty.*