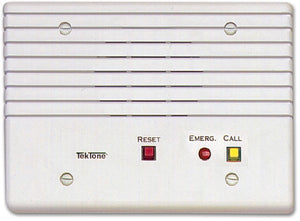 FEATURES
UL® 1069 Listed
Supervised
All stations interchangeable
Simplified multiplex wiring using plug-in connectors
Attractive, flame retardant (UL® 94V-0) plastic faceplate
Selective annunciation of call priority
DESCRIPTION
The IR315F Duty Station provides reliable two-way, handsfree communication between the nurse master station and utility rooms, examination rooms, kitchen, or any location where a nurse may perform a function out of hearing or sight of the master station. Calls are placed to the master station by use of a momentary push button. When the call is answered at the master station, the red in-use indicator on the duty station lights, and the nurse may then carry on a conversation from the remote location
A call originating from a patient station is indicated both audibly and visually at the duty station to which it is assigned. Normal calls are indicated by a steady illumination of the yellow call-placed indicator and a slow repeating tone. Emergency/bath calls cause alternate flashing of the yellow call-placed and red emergency indicators and a rapid repeating tone. Code calls function the same as emergency calls, but at twice the pulse rate. Dome light indication is also provided. All calls initiated from stations other than the duty station can be reset only at the master station or point of origin.
SPECIFICATIONS
Dimensions:

Height: 4.5" (114 mm)
Width: 6.375" (162 mm)
Depth: 2.75" (70 mm)
Projects: 0.5" (12.7 mm)

Construction: Flame retardant (UL® 94V-0) plastic
Speaker: 2.5" × 2.5" (64 mm × 64 mm), 60 ohm
Connections: Plug-in type
Housing: Steel City #H3BD with Steel City #3GC plaster ring, or exact equal. Horizontal mount.
WARRANTY
One (1) year manufacturer's warranty plus an exclusive one (1) year BuyTekTone.com extended manufacturer's warranty.*